New Virtual Multimedia Presentations Now Available on ZOOM Video Conference
Contact us for more details
---
The Last Treasure Hunter

A 45-minute presentation on the last official Treasure Hunt in Canada. Terry Dwyer was issued the very last and official "treasure trove license" in Nova Scotia. Just months before the Province of Nova Scotia repealed the controversial Nova Scotia Treasure Trove Act an ambitious search for the privately owned British Transport ship SOVEREIGN was under way off St. Paul Island – The infamous "Graveyard of the Gulf". At the time of its sinking, the SOVEREIGN was reputed to be carrying over 200,000 silver coins at the time it was wrecked near the end of the War of 1812. Learn all about the past and present legalities, the politics and the protocols, that he had to deal with including how he navigated the ongoing and ever changing maze of Government bureaucracy.
The L'AUGUSTE Shipwreck Project


A 45-minute presentation on the 2-year search for the "stern section" of the treasure ship L'Auguste, wrecked in 1761 off northern Cape Breton. First discovered in 1977and reworked several times by several different treasure hunting companies over the past 30 years, the shipwreck remains the second largest treasure ship ever discovered in Canadian waters, yielding over well over 12,000 silver Spanish pillar dollar and hundreds of gold coins to date. Go behind the scenes of an actual real life treasure hunt and learn about the business and the politics of what really goes on and what really happened over the course of this 2-year project.
St. Paul Island – The Graveyard of the Gulf


A 45-minute presentation touching on 16 years of adventures and shipwreck exploration on St. Paul Island. St. Paul Island is located in the Gulf of St. Lawrence roughly 15 miles (24 Kilometers) from Cape North on Cape Breton Island and 71 Kilometers (44 miles) from Cape Ray, Newfoundland and Labrador. The island is basically a granite rock that measures 3 miles long and 1-mile-wide, most of the year it is shrouded in fog and mist. There are over 350 shipwrecks on this island and well over 1000 people buried there in unmarked graves. Virtually unexplored St. Paul Island still beckons divers to its coastline – offering unprecedented opportunities for new shipwreck discoveries and quite often underwater visibility in excess of 100 feet in all directions.
The SOVEREIGN Shipwreck Project


A 45-minute presentation on the 2-year search for the remains of the SOVEREIGN, a privately owned British merchant ship that wrecked off the coast of St. Paul Island in 1814. The bow section and cannons of the SOVEREIGN were first discovered in 1969 by Ed Barrington of Offshore Diving and Salvage – Its cannons were recovered and sold to Oak Island Marina where they still reside today but its cargo reputed to be over 200,000 silver coins has remained hidden and undiscovered for the past 48 years.
Shipwreck Hunting 101– The Tools and Technology

Want to learn how to find shipwrecks? According to the United Nations, there are approximately three million shipwrecks littering the oceans around the world. The opportunities for shipwreck exploration and discovery are as untapped as they are global. Here in Nova Scotia there are over 10,000 shipwrecks with less than 1 % of them having been discovered. This 45-minute presentation covers such topics as: how to research and find shipwrecks, the technology and tools of the trade and search techniques used to locate shipwrecks. Today's underwater explorers now have access to new affordable technology. Never before have these new technologies been so widely available and accessible to the public and at such an affordable price.
TITANIC – Working on the Movie Set


In September of 1995 Halifax the presenters company DEEP STAR was contracted by Hollywood film making giant, Lightstorm Entertainment to assist with logistics, locations and marine support services for the motion picture TITANIC. Directed by James Cameron, TITANIC went on to win 10 Oscars and worldwide acclaim. It was during the making of the movie TITANIC, that Terry Dwyer conceived Movie Marine Canada and since then he and his team went on to work on several major motion pictures that were filmed in part, here in Nova Scotia; including the major motion pictures:K-19 The Widowmaker, The Shipping News, and The Weight of Water. Movie Marine Canada also supplied the marine support services for the TV Movies: Shattered City: The Halifax Explosion, Blessed Stranger: The Aftermath of Swiss Air Flight 111 and for the Discovery Channel TV Series: High Seas Rescue and Oceans of Mystery. For over eight years, Terry has worked on numerous movie sets as a safety diver for some of Hollywood's biggest stars, including Harrison Ford, Liam Neeson, Elizabeth Hurley, Sean Penn, Kirstin Dunst, Sara Polley and Kevin Spacey. Join professional diver Terry Dwyer for an informative and fascinating 45-minute slide show presentation of the unique challenges and obstacles his team faced on a daily basis working in the movie industry.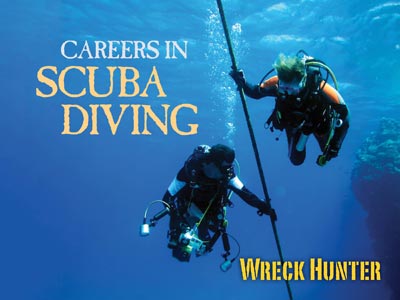 Careers in Scuba Diving

Ever thought about making a living as a commercial diver, military diver or scientific diver? How about punching a clock in paradise as a Divemaster or Scuba Instructor working at a Scuba Shop or even at resort in the Caribbean? Ever dreamed of working in the TV, Video or on Hollywood Motion Picture Industry, as a marine coordinator, safety diver, scuba instructor, underwater camera or lighting operator? What about a career in marine biology or oceanography? How about as a full time treasure hunter, searching for treasure in the Caribbean like a modern day Indiana Jones. Learn all about these exciting part-time and full-time career opportunities.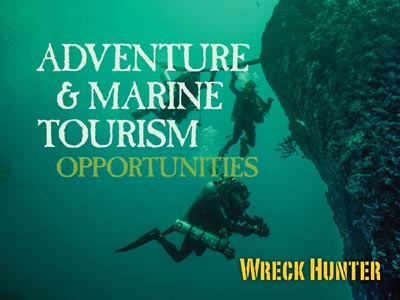 Adventure & Marine Tourism Opportunities

Thinking about starting a seasonal Adventure or Marine Tourism business?
Have you considered Scuba Diving as part of your business plan? The east coast of Canada has long been one of the best kept secrets in the scuba tourism industry. Crystal clear cold water, lots of shipwrecks and vibrant marine life combined with the current exchange rate on the Canadian dollar and you have the makings of a new, extremely economical and sustainable seasonal Adventure & Marine tourism industry. Learn about some exciting opportunities available working in coastal communities. Learn about unique niche advertising and marketing techniques developed on the fly and tested in real time. Adventure tourism offers the participant all the necessary ingredients that adventure travel has to offer: excitement, a level of risk, unique experiences, education and fun. Terry has over 20 years of experience running dive charters, tours and expeditions to some of the most remote parts of Nova Scotia. He has organized private, semi-private and even groups of divers and non-divers as large as 22 people at a time on numerous weekend and week long expeditions.